Tennis at La Mariposa
La Mariposa gives you the opportunity to play a great sport in beautiful sourroundings. And with our great pros, leagues and camps, and our exciting ongoing tournaments, we have plenty of tennis culture. Come play in a positive, fun, skills-building environment, and enjoy a great place to meet other tennis players.
Hone Skills, Enjoy competitive Action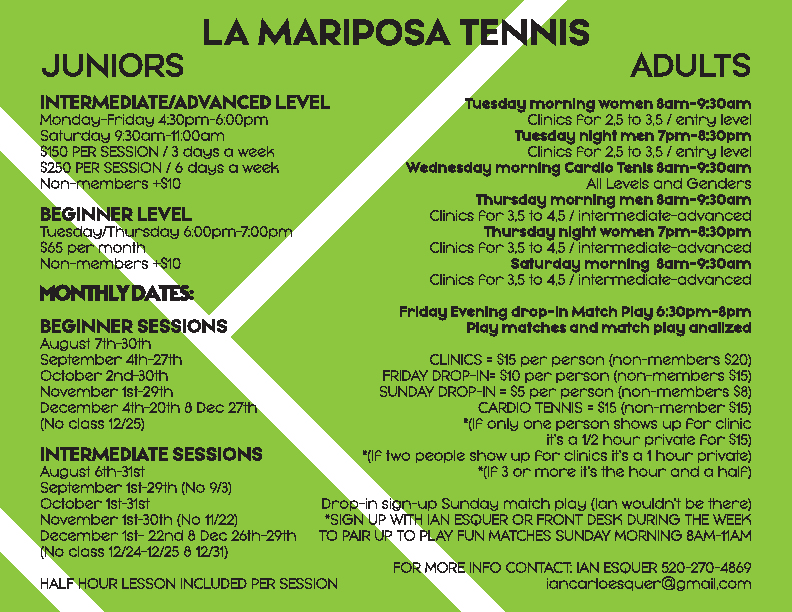 Whether you're new to the game or have been playing for years, La Mariposa has the tennis facilities to help grow your game. If you are new to tennis, we'll help you build a foundation for a well-rounded game. If you've been at it a while, we'll help you get to the next level. We've got plenty of opportunities for instruction, and you can test your skills by joining our tennis leagues and tournaments for both singles and doubles. We've also got a matching service to help you stay in the game with players at your skill level.
Meet our Pros
BENNY MORENTIN Benny Morentin is now the Director of Tennis here at La Mariposa. He brings a wealth of knowledge to the club. Before coming to La Mariposa, he was the Director of Tennis at Tucson Country Club. He is a member of both the PTR and the USPTA. In 2013, Benny was named PTR pro of the year for Arizona. With the PTR, Benny is a certified clinician and is certified to teach 10 years and under children as well as 11-17 year olds. Currently he is working on his Master of Tennis with the PTR. For more than 25 years Benny has inspired junior players in the Tucson community. He began teaching in 1989 at Himmel Tennis Center, where he was the Director of Junior Developmentand the Assistant Head Pro. Since then, he has been Assistant Head Pro at Tucson Racquet Club, Director of Tennis at Omni Tucson National, and Director of Tennis at Tucson Country Club before coming to La Mariposa. He has been the coach for the USTA inter-district and inter-sectional teams and Area Training Center. At one time, he was the head coach for St. Gregory Preparatory School. Many of Benny's students have gone on to become successful high school and collegiate athletes, as well as nationally ranked juniors. Additionally, Benny teaches adults and interclub teams. He has coached five USTA teams to Nationals in the past six years at Tucson Country Club.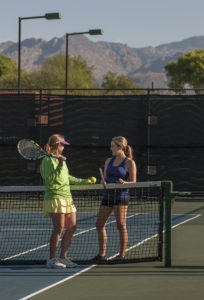 Benny's own accomplishments include All-American collegiate player and he was ranked 4th in the nation in doubles while at Grand Canyon University in Phoenix, Arizona. He played three years at the USTA National 5.0 Tennis Championships and was a member of the 2010 USTA National 4.5 team. In 2008, Benny was one of a small group of professionals in Tucson to have been invited to complete the USTA Elite Coaches High Performance Training class. This accolade truly establishes Benny Morentin as one of the top tennis-teaching professionals.
Evan Philips– Evan's accomplishmensts include: no 1 ranked player in Virgin Islands for 13 years, 24 to 1 winning record in his senior year at Oral Roberts, playng at Wimbledon, wins over 25th ranked players in world, and 30,000 hours of lessons to students including some that earned college scholarships, and those that have gone on to play professionally. Evan's success stems from his vast playing experience, his ability to teach stroke fundamentals and footwork in a clear simple manner, and his understanding of how to win matches. Evan is limitlessly patient and loves teaching at every level.